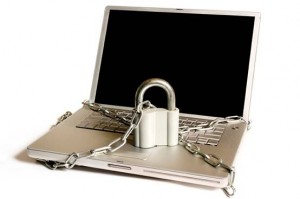 The way we do business has evolved dramatically over the last decade. As more and more people use laptops for their primary work PC, these machines have become an easy target for theft. If your laptop is stolen, or someone should gain access to your files while your back is turned, your company information – not to mention your financial and personal data – is at risk. Follow these tips to improve your laptop security.
1. Passwords are the first step to internet security. Use robust passwords, and don't keep them in your computer bag. Include a minimum of 12 characters, numbers AND letters, as well as a special character symbol.
2. Double check your network connection. Unscrupulous hackers have been known to purposely name their wireless connection "Linksys," or some other common vendor's name, in hopes of luring someone who is less than cautious to connect to them. These "evil twins" prey on users' naiveté to steal private information.
3. Encrypt your data. If your laptop is stolen, encryption can offer you an additional layer of protection. The Windows operating system enables users to encrypt files and folders. Learn more about encrypting your data:
Windows 7
Windows Vista
Windows XP
You can also encrypt your entire hard drive. Most laptops have data encryption capabilities built right in, but you can also use a software program like SafeBit Encryption.
4. Power down your wireless network adapter. Not only will you save battery life, you'll be better protected, too.  In addition, eliminate access to any Windows file shares when you're traveling. To do this, go to your wireless connection's Properties panel and make sure that "Client for Microsoft Networks" and "File and Printer Sharing for Microsoft Networks" are both unchecked.
5. Don't assume SSL certificates and SSH public keys are safe. Before you click "yes", understand what you are accepting. Never log on to a public hotspot that issues an invalid certificate.
Convenience comes with a price. Protect your laptop from would-be thieves and hackers. If you have any questions about laptop security, don't hesitate to give us a call. We'll be happy to discuss your concerns and go over the various options available to you.
Share